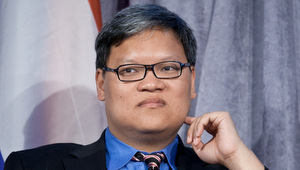 The scandal that rocked the once-famous private
Minsheng bank
has put the question of the role of the government towards the banking system. Bailing out banks create more problems than it solves, says
financial analyst Victor Shih
to the New York Times.
The New York Times:
But those bailouts create their own challenges. Investors, assured that the government will come to the rescue, do not worry about the potential risks and continue to pour money into the products. According to the state news media, Chinese investors have put $4.4 trillion into wealth management products, equivalent to about 40 percent of the country's annual economic output.
"It invites moral hazard," said Victor Shih, an associate professor at the University of California, San Diego, who specializes in the politics of Chinese banking policies.
"When you tell people that they will get bailed out, then they will engage in very, very risky behavior and also opportunistic behavior on the part of the banks."
More in the New York Times.
Victor Shih is a speaker at the China Speakers Bureau. Do you need him at your meeting or conference? Do get in touch or fill in our speakers' request form.
Are you looking for more political experts at the China Speakers Bureau? Do check out this list.